| | | | | | | |
| --- | --- | --- | --- | --- | --- | --- |
| | | | | | | |
Brass Tubes
Our rich industry experience as well as product knowledge allow us to successfully handle the demands of Brass tubes, Brass Metal Tubes, Brass Copper Tubes. Our well equipped manufacturing unit allows us to ensure quality in accordance with defined international standards. Well recognized for their superior corrosion resistant finish, these brass tubes also have high wear resistance as well as low friction coefficient against steel.

These Brass Tubes are used in different areas including Furniture & Lighting Fixtures, General Engineering Purposes, Arsenic Brass Tubes for Sugar Industries, Admiralty Brass Tubes Tubes for Evaporators & Coolers, Aluminium Brass Tubes Tubes, Brass Tubes for Sanitary Fittings & Accessories and Brass Tubes for Agriculture Equipment.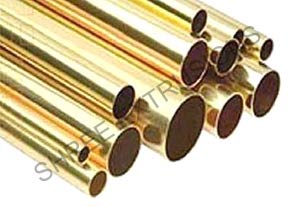 70/30 Brass Tubes
We have with us rich experience in successfully handling the demands of varied assortment of 70/30 Brass Tubes. These are precision manufactured using premium grade material that are sourced from trusted and reliable dealers, thus making these brass tubes perfect to be used in different industries.
Some of the features of these 70/30 Brass Tubes are :
Sturdy in construction
Easy to install
Durable finish
Corrosion proof
Having established a strong foothold in the market, these are also made available with attributes like good finish, accurate dimensions, high tensile strength, superior toughness and impact resistance, easy to install, finishing, rust proof and availability in custom thickness and sizes.
These are used in areas such as :
Sugar factories
Heavy engineering industry
Power generation plants
Heat exchangers
Automobile industry
Condensers
Plumbing applications
Hand Pumps
Ammunition and General Engineering
Specifications:
| | |
| --- | --- |
| 70/30 Brass | ASTM B 135 C 26000/ BS 2871 Part 3 CZ - 126/ EN 12451 CuZn30As/ NFA 51 102 CuZn30/ JIS H 3300 C 2600/ AS 1572 26130 |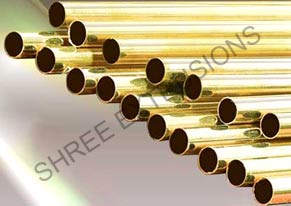 63/37 Brass Tubes
We are a leading name in the field of offering a complete range of 63/37 Brass Tubes. Our team of experienced technicians allows us to manufacture these in accordance to defined guidelines and norms.
These brass tubes are recognized for :
Excellent performance
Superior durability
Rugged construction
Corrosion resistance
Superior rust-proof finish
Accurate dimensions
These brass tubes are available in both standard as well as customized forms at affordable prices. These precision engineered 63/37 Brass Tubes are provided in different sizes, thicknesses, elongation and hardness.
Applications :-
Some of the applications these are used in include :
Furniture & Lighting Fixtures
Sanitary Fittings & Accessories
Agriculture Equipments
General Engineering Industry
Specifications:
| | |
| --- | --- |
| 63/37 Brass | ASTM B135 C 27000/ JIS H33000 C 2700/ ISO 1637 CuZn37 |
Admiralty Brass Tubes are generally used with fresh, clean waters free from suspended abrasive solids and originating from rivers lakes and canals. It may also be used with brackish or even saline water. The inhibitive action of arsenic protects Admiralty Brass Tubes from dezincification and the fully annealed alloy can also withstand stress-corrosion cracking. In waters containing less than 2000 ppm dissolved solids its use is allowed at flow rates of up to 3 m/s (10 ft/s) in sea waters a maximum speed of 1 m/s (3,0 ft/ s) is recommended. The presences of tin improve resistance to general corrosion in slightly polluted (sulphurised) water.
Specifications:
| | |
| --- | --- |
| Admiralty Brass Tubes | ASTM B 111 C 44300/ ASME SB 111 C 44300/ BS 2871 Part 3 CZ - 111/ EN 12451 CuZn28 Sn1As/ NFA 51 102 CuZn29Sn1/ JIS H 3300 C 4430 |
Aluminium Brass Tubes are generally used with brackish or sea water. Through its arsenic inhibition, it is virtually immune from dezincification and, when fully annealed, also practically free from stress-corrosion cracking. Aluminium Brass Tubes is resistant to pitting and even more so to impingement attack: in fresh water, a velocity of up to 3,5 m/s ( 11, 5 f/s) is admitted; it should be reduced to about 2,5 m/s (8,5 f/s) when operating in sea water.
Specifications:
| | |
| --- | --- |
| Aluminium Brass Tubes | ASTM B 111 C 68700/ ASME SB 111 C 68700/ BS 2871 PART 3 CZ - 110/ EN 12451 CuZN20 AL2As/ NFA 51 102 CuZn22 Al2/ JIS H - 3300 C 6870/ |